Walcott can be final-day hero
Our tipsters bring you their game-by-game preview of the Premier League's final day, with focus firmly on the top-four race.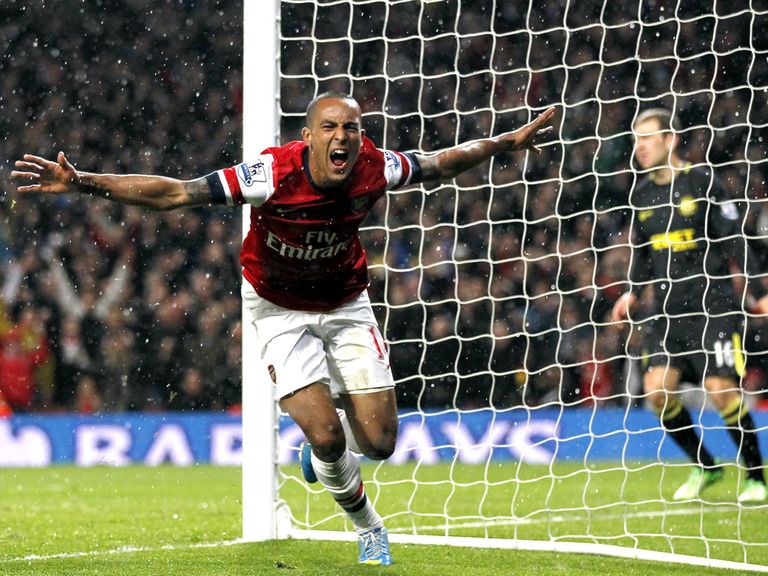 Both Arsenal and Tottenham remain hopeful of playing Champions League football in 2013/14 and we've got bets in both games.
Sunday sees a full programme of 10 matches - we've got a verdict for each.
Chelsea v Everton
Arguably the most worrying statistic surrounding David Moyes as he prepares to head to Old Trafford is record at what has become known as the 'Original Big Four'. As Everton boss, Moyes has made a combined 45 trips to Manchester United, Arsenal, Liverpool and Chelsea and has not managed a single victory. Perhaps with the pressure off - Everton will finish sixth regardless of the result here - he will finish his 11-year tenure as manager by burying a stat which will otherwise follow him down the East Lancs Road. It could certainly be a good time to face Chelsea, who won the Europa League on Wednesday night and, after a long season, must have taken their focus off this game at least a little. Everton were rather unlucky to lose the reverse fixture - their only home defeat in the league of the season - and have shown in recent weeks what they have been all about under Moyes: a side that is very hard to beat, as seven clean sheets in their last nine games show. The 13/10 offered about Everton and the draw in the double-chance market looks worth considering. Remember they have avoided defeat at Arsenal, Spurs and Liverpool in recent weeks. The one issue that may focus Chelsea minds fully is the need to nail down third place. Anything other than a win could lead to them facing a Champions League qualifier in August - or even a play-off with Arsenal for third place, as has been highlighted this week. Both will want to be avoided by the Chelsea hierarchy. That puts me off recommending a bet.
Verdict: Chelsea 0 Everton 0 (AS)
Liverpool v QPR
Liverpool have rightly developed something of a reputation for being unreliable favourites but this is a game they should win and win well. While it would pay not to get too carried away, Brendan Rodgers has definitely got them playing more effective football recently and the absence of Luis Suarez was hardly noticeable at Fulham and at Newcastle a fortnight prior to that. The issue is that they've now drawn their last three at home, failing to score in two of those, and perhaps for now this improving squad are finding life on the road more comfortable. Still, that shouldn't matter much against a QPR side whose shambolic defending gifted Newcastle victory at Loftus Road a week ago. Harry Redknapp has been unwavering in his criticism of the squad and it's an attitude that has so far failed to inspire some under-achieving players to produce the goods. Victory could yet see QPR haul themselves off bottom but that simply doesn't look possible, especially in the possible absence of striker Loic Remy. This should be a cruise for the Reds but all prices reflect that and this is a game which will appeal only to fans of either side.
Verdict: Liverpool 4 QPR 0 (BC)
Manchester City v Norwich
Norwich will perhaps be the most relieved of anyone - with the possible exception of Aston Villa against final-day specialists Wigan - that their last game of the season is not a crucial one. Two wins in four games have been enough to secure another season of top-flight football after a run of one win in 16 had left that very much in doubt. After a disappointing title defence, Manchester City secured the scant consolation of second with a 2-0 midweek win over Reading - their sixth win in eight league games - to leave this as the ultimate meaningless end-of-season game. Manchester City should win and at 4/11 will be a cornerstone of a great many Sunday accas but - and this will become a familiar refrain throughout this preview - it doesn't seem worth getting involved at the prices available on a dead game when there is better value to be found elsewhere.
Verdict: Manchester City 2 Norwich 0 (DT)
Newcastle v Arsenal
There was a palpable sense of relief at the Emirates on Wednesday as Arsenal took advantage of a tired Wigan outfit to run out ready winners and remain on course for a top-four finish. The job is far from done, of course, but they arrive on Tyneside as worthy favourites to beat a Newcastle team who've struggled all season. Last week's victory for Alan Pardew's side came courtesy of some calamitous defending from QPR and it was disconcerting for home supporters - and those of Spurs for that matter - to hear the manager express such relief afterwards that he claimed to no longer care about this result. What that ultimately counts for remains to be seen and before steaming into Arsenal at 4/7 it's worth remembering that at half-time on Wednesday alarm bells were ringing loudly. Clearly, though, the visitors are the side on an upward curve having won seven and drawn two of their last nine since a confidence-boosting win in Munich. It's with that in mind that I'm keen to side with them somehow and the bet is surely Theo Walcott to score at 6/4. He's in flying form at present, finding the net in each of his last three starts, and last time he found the net three times running he scored in the next game too. Throw in the fact that he bagged a hat-trick when Arsenal beat Newcastle 7-3 in the reverse fixture and, in a game which should once again deliver goals, he's the clear value.
Verdict: Newcastle 1 Arsenal 3 (BC)
Southampton v Stoke
Southampton have drawn six at home, Stoke have drawn seven on the road. If you must have a bet on a game with nothing riding on it, then you could do worse than the 11/4 available for a stalemate in this one. If you want a bigger price still, Southampton have had six 1-1 draws and Stoke five; that scoreline's 13/2 at Hill's and BetVictor. Jon Walters has two goals in his last four for Stoke and takes penalties, so is perhaps a touch big at 9/1 to score first and 7/2 anytime, but this isn't a game that grabs our attention.
Verdict: Southampton 1 Stoke 1 (DT)
Swansea v Fulham
The end of the season can't come fast enough for Fulham, who have been on the beach since reaching the magical 40-point barrier. Perhaps the most cliche-ridden sentence ever written there, but it's true: since moving from 39 to 40 points with a 1-1 draw at Aston Villa, Fulham have lost five straight games to drop down to the lower reaches of the table. Swansea are hardly flying themselves, winning only two of 10 games since winning the Capital One Cup. But in that time only Chelsea and Arsenal have beaten them by more than one goal with their last two home games ending goalless. Swansea are a shade of odds-on here, which is probably a fair price given Fulham's recent run. With the Swans having been involved in six goalless draws this season the 12/1 'no goalscorer' is worth a second glance while a 1-0 home win at 7/1 also has some appeal.
Verdict: Swansea 0 Fulham 0 (DT)
Tottenham v Sunderland
For Tottenham, the scenario mirrors that of last season. They were competing with Arsenal for third spot on that occasion, but again found themselves seeking an apparently routine win while hoping against hope for Arsenal to slip up themselves against opposition with little motivation. Spurs must focus on getting their own job done - as they did on the final day last season with a regulation 2-0 win over Fulham. It would be a major surprise if they fail here. After the explosive victories over Newcastle and Everton, Sunderland have ultimately stumbled to safety with a couple of home draws following a thrashing at Aston Villa. And a key difference between this year and last for Spurs is the fact they have not handed the initiative to Arsenal via their own poor results; the Lilywhites have four wins in an unbeaten seven-game run including clashes with three of the top six. But 1/3 is not a price that gets the juices flowing. The key to Spurs' recent good form has been their fitness and resilience. They have found the net in the last 15 minutes in each of their last six Premier League games - Ladbrokes offer 11/10 that they make it seven - and have come from behind to grab points in five of their last six. Hill's offer 9/2 that Spurs do so again but we'll look to go one better; two of Spurs' last four wins and six in all this season - including the reverse fixture at the Stadium of Light - have come from behind, and 888sport's 8/1 for a repeat looks too big. Spurs have kept only one clean sheet in their last 12 Premier League games, while Sunderland have netted in 10 of 11, so it's not even like an away goal is a huge leap of faith here.
Verdict: Tottenham 3 Sunderland 1 (DT)
West Brom v Manchester United
After last weekend's emotional farewell at Old Trafford, Sir Alex Ferguson takes charge of Manchester United for the final time. It's been a difficult couple of weeks for United's players and fans alike and it's fair to say they've not been the same side since they lifted the Premier League trophy for the 20th time. It's very difficult to keep your momentum and drive going in any walk of life after achieving your objectives and United look to have taken their foot off the gas since winning the title. They didn't really fire against Swansea last weekend and were arguably lucky to give Sir Alex the perfect send off. Although their previous two games against Arsenal and Chelsea weren't easy fixtures, they didn't play with the same fluidity that they had done when chasing the Premier League title and you certainly wouldn't want to be lumping on at odds-on away from home this weekend. The other side of the coin to this argument is that they will almost certainly want to give Sir Alex a final victory before he heads off into the sunset but you get the distinct impression that they wouldn't be unhappy with a draw on the final day. West Brom themselves have hardly been in form of their lives either, only winning once in their last six games, but they can be quite difficult to beat at home and while it's difficult to make a strong case for them winning this on recent form, they can easily hold the Premier League champions to a draw at the Hawthorns.
Verdict: West Brom 1 Manchester United 1 (GP)
West Ham v Reading
The term 'dead rubber' doesn't really do this game justice as 10th-placed West Ham take on relegated Reading at Upton Park. Despite 15 points separating them in the table, there's not much to split them on recent form. The Hammers have only picked up one more point than Reading in their last six games and you could argue that the Royals have performed slightly better in the league since they were relegated following their goalless draw against QPR at the end of last month. Hence, you'd expect this to be a relatively tight affair but the layers seem to think that West Ham should be strong favourites for this game at around 4/6 which seems very short to me given the relative nature of this match. I appreciate that the visitors have been very poor away from the Madejski Stadium this year but Reading have got nothing to lose heading into the final day of the season and this match could well throw up a surprise result. Like a good few of these type of matches on the final day of the season, the favourites could easily oblige but I certainly wouldn't be taking short prices in meaningless fixtures and this match is probably best left alone.
Verdict: West Ham 0 Reading 0 (GP)
Wigan v Aston Villa
There's absolutely no doubt that it's been a draining fortnight for Wigan, physically and emotionally. It's hard not to come to the conclusion that their heroics in the FA Cup final counted against them at the Emirates Stadium, when Arsenal ran away with victory after a first half which had seen Wigan fight their way back from a goal behind. Their lack of potency there has to be considered worrying and I can't imagine any punter is going to rush to take 23/20 about them getting off the floor to win what's now a dead-rubber. Of course, there's no great incentive for Villa but they could yet finish as high as 11th in the Premier League table and, from a financial perspective, that'd be a huge boost for the club. With that in mind I think they have to rate a spot of value at around 5/2 despite the suspension of Christian Benteke, who has clearly been pivotal in their ultimately successful battle against relegation. Were he available I'd be much more confident but Gabby Agbonlahor has really found form against the division's weaker sides of late and can fill the void successfully. In keeping with the theme of the day stakes are best kept small but Villa certainly look overpriced to make this a week to forget for Championship-bound Wigan.
Verdict: Wigan 0 Aston Villa 1 (BC)
All Sunday's games kick off at 1600 BST with the matches at Newcastle and Tottenham being televised live in the UK on Sky Sports.
Preview posted at 1150 BST on 17/05/2013.