Keep it simple and back Simon
Ben Coley previews week 11 of the Premier League and fancies Simon Whitlock to register back-to-back wins.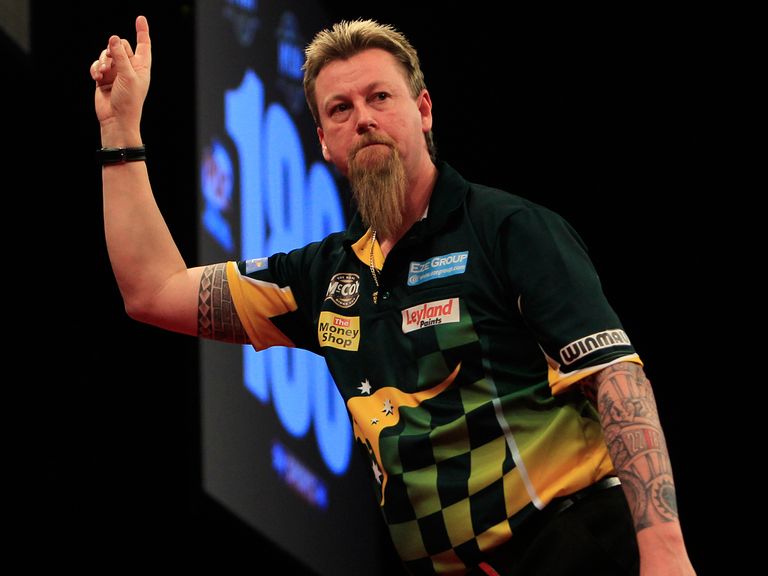 Half of the eight-strong field play twice in Dublin on a night where fans are treated to six games, and momentum could be a huge factor.
Michael van Gerwen is fancied to build on another fine performance at the weekend and extend his winning run to four matches with victory over Raymond van Barneveld, while Simon Whitlock can gain revenge on Andy Hamilton.
Andy Hamilton v Phil Taylor
Taylor is 1/2 to get favourite backers off to a winning start but this has the makings of a potential upset. Quite simply, Hamilton thumped Taylor 7-3 when they met in Manchester and bested him in a floor event too, and having lost to Michael van Gerwen before a shock weekend defeat to Josh Payne, Taylor is under a bit of pressure. Hamilton spurned a real chance to turn a 3-0 deficit into some sort of victory against Ramond van Barneveld last week and while he'll have been left disappointed, he can also take pride in what was a fightback typical of his nature. Indeed, it's with that in mind that there's some temptation to play over 10.5 legs, which has paid out in eight of his 10 matches so far, but if 4/6 is wrong it's probably not by much. There's certainly a strong case to be made for 7/2 Hamilton being on the generous side, but opposing Taylor on the back of a disappointing week is definitely a risk - last time he lost to Hamilton, he responded by winning his next two for a total concession of just five legs. Ultimately while I'd avoid Taylor at the price, I'm not prepared to take him on and there are better bets later on the card.
Raymond van Barneveld v Michael van Gerwen
MVG has been described as the best player in world darts by none other than Eric Bristow this week, and he arrives full of confidence. Victories against James Wade and Phil Taylor saw him establish a good lead at the top of the standings last week and he's since gone on to win a UK Open Qualifier thanks to some outstanding figures. Clearly, then, van Barneveld has a job on his hands despite winning a scrappy encounter with Andy Hamilton last week. Raymond deserves credit for the results he's produced in the Premier League but you just wonder whether the new kid on the block may be able to establish the sort of record over Barney which Taylor has over the years. It's surely no coincidence that Barneveld's two defeats in this event have come against the big two and in truth he was nowhere near salvaging a point in either game. It's with that in mind that I like the look of Betfred's 13/8 that MVG concedes a 2.5 leg handicap. He did so against Taylor last week before maybe suffering a mental lapse with a less impressive win over Wade, and a repeat is very much possible. An alternative option is to dutch 7-3 and 7-4 wins at around 11/4 while for those who can't get on the advised bet, shop around and add 7-2, 7-1 and 7-0 for a combined price of close to 13/8 anyway.
Robert Thornton v James Wade
Wade's three-game winning streak came to an end last week but only after he'd smashed Adrian Lewis in the first of his two games on the night. A subsequent defeat at the hands of van Gerwen can quite easily be excused, and he deserves to start favourite despite withdrawing from a weekend floor engagement due to an unsavory incident with a spectator. Thornton was surprisingly lacklustre against Simon Whitlock last week but he's yet to lose back to back games in the league and we can therefore probably excuse him, too. Even in defeat, his impressive destruction of the treble-20 bed continued and only van Gerwen has thrown more 180s this season. Given that Wade banged in five against Lewis, 5/4 about seven or more 180s is fair particularly given that most things we've seen this season suggest we should get at least 11 legs out of this one. The one fact which suggests otherwise is that Wade won the Nottingham meeting of the pair 7-1, winning the first six legs untroubled, but Thornton has grown in stature since then. If pushed, Wade's finishing and form make him the most likely winner but I'd want 5/4 before getting involved and am therefore happy to sit this one out.
Simon Whitlock v Andy Hamilton
Perhaps not one for the purists but one thing is for sure, these two won't give an inch. When last they met, Hamilton won 7-4 but both men were below 92 with their averages, neither bettered 33 per cent on the doubles, and the highest checkout was 87. It was a pure scrap and more of the same can be expected. Whitlock was perhaps a tad fortunate to make it through to phase two but quickly took advantage by beating Thornton, and maybe he can now take advantage of the fact that his opponent will surely have had to exert plenty of energy against Taylor earlier in the evening. Wade and van Gerwen demonstrated last week that it's difficult to raise a second effort - another example of that can be found in the last two finals, which have seen all four players involved on the night throw worse in their second matches - and Whitlock's freshness is a definite advantage. Given that it's he and not Hamilton who arrives on the back of a win, everything is in the Australian's favour and at odds-against he's worth a bet to gain revenge.
Raymond van Barneveld v Phil Taylor
The first of two matches involved players who will already have a game under their belts and therefore are hard to back at this stage. It's a shame, because were this the first game of the night we'd be all over Taylor at 10/11. No, he wasn't brilliant last week, but he still got close to van Gerwen and everything we know about this match up says it's historical and not current form which counts most. Taylor simply owns van Barneveld, as was demonstrated in Glasgow three weeks ago when the Power won 7-3 while his opponent again showed frailties we don't see against anyone else. The trouble is, if Hamilton beats Taylor and Barney gets a result against van Gerwen, Taylor could drift to odds-against and that'd be the time to strike. Whatever happens in the all-Netherlands affair, the advice is to see how Taylor performs against Hamilton and if he's anywhere close to his best, take anything better than 4/5 about him beating van Barneveld once more.
Michael van Gerwen v Adrian Lewis
As above, it's quite hard to take a firm opinion here given that more form will be on offer before this match takes place, and with no obvious mistakes in the prices we'll advise no bet. Lewis has already beaten MVG in the competition but he was helped by an average which was comfortably van Gerwen's worst until he produced just 90.99 against Wade in last week's final game. Prior to that, the Dutch superstar had produced a remarkable run of five successive 100-plus averages and that's why BetVictor are fully justified in setting their spread at 100.5. There's some temptation to play under given what we've already said about players struggling to produce two sets of fireworks but where last week MVG had to beat Taylor first, this time around he has what appears a slightly easier task. The spread of 95.5 about Lewis' average is more tempting as under looks very solid given that he's been below in seven from 10 games, but he does have the advantage of playing just one game on the night and while that's not enough to warrant backing him to win at 7/2, it is reason to expect he'll put in a better display than when thumped by Wade last time.
Preview posted at 1945 BST on 17/04/2013.