Hold fire on Mickelson Masters bets
Phil Mickelson's victory in the Waste Management Phoenix Open came as a surprise to some, but if we know one thing about Phil The Thrill it's that he can find his best game from nowhere.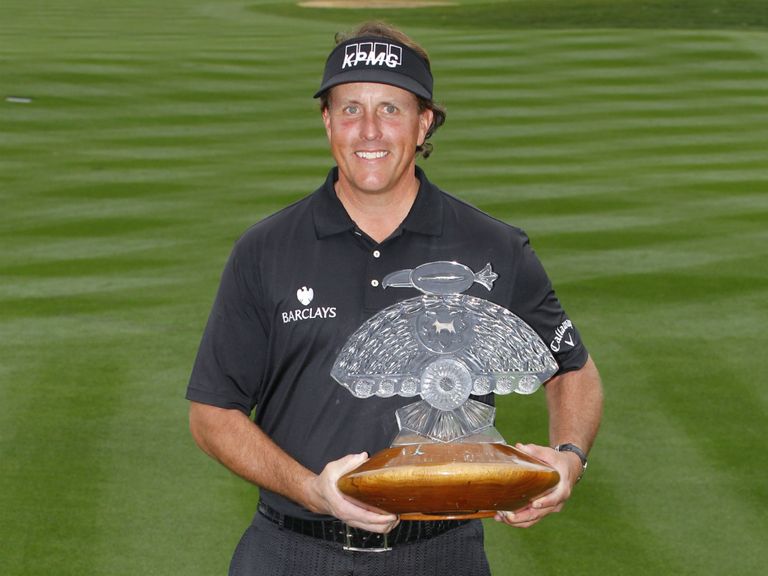 'Expect the unexpected' is a phrase which just about sums up his recent achievements and it's one which underlines why we shouldn't be rushing to take quotes of 10/1 about another US Masters title in April.
That's not to say he won't win. Nineteen Augusta appearances as a professional show three wins and a further six top-five finishes, and it's quite possible to argue that he's the most likely champion.
After all, Rory McIlroy hasn't yet cracked the top 10 and Tiger Woods hasn't won a Green Jacket since 2005, which for a man of his achievements represents, well, underachievement.
Yes, 10/1 about Mickelson is more than fair. It's just that he's so unlikely to keep producing the form he showed in Phoenix right through to the spring, and a few below-best performances in the weeks running up to the Masters may see us gifted 14/1 or, whisper it, even bigger.
And even if he arrives with form figures of MC-MC, that sort of price would still have to be considered. Each of his last four PGA Tour wins have come from 'out of the blue' to a certain extent, and from a punting perspective it's to be hoped that the likes of Woods and McIlroy are dominating the headlines come the year's first major.
That leads me to a point about ante-post golf punting. Next week will see me take a look at the Masters in detail, but before I do I can say for certain that the top of the market is unlikely to tempt me.
Before placing any ante-post bet, the simple question is this: what price do I expect this selection to be the day the event starts? Unless the answer is 'significantly shorter', it should pay to wait.
Let's take a few examples from the Masters betting, starting with Snedeker.
A month ago, he was 66/1 in places and some shrewd punters rightly snapped that up. Now 33/1, he's absolutely unbackable. Why? Not because it's a bad price on what he's doing right now, just because it's simply not going to get significantly shorter between now and then.
This is because we've a top-heavy market dominated by the players the everyday punter - the one who bets the majors - wants to be on.
Woods, McIlroy and Mickelson will be very popular, as will Lee Westwood, Luke Donald, Justin Rose and dare I say Ian Poulter. Throw in Louis Oosthuizen and Charl Schwartzel, the defending champion Bubba Watson and the ever-popular Dustin Johnson, and you have a group of players bound to attract huge support.
As such, come Masters week expect to see some tempting prices offered about players like Snedeker, those who aren't quite yet as familiar to all and who may not yet have everyone convinced.
Nick Watney is another. At 50/1, he might not look a bad bet come Masters week, but is he really going to start shorter? If he wins between now and then we may see 33s but I'd be surprised. Should he fail to add to his tally we may get 66s.
There are simply so many quality players with obvious claims that identifying clear value is very, very difficult. This doesn't mean that it shouldn't be attempted, but that you should be absolutely ruthless in eliminating players from your list. Unless you think they could conceivably start at half their current odds, my advice is to wait.
As for what happened on the European Tour last week, I'm still trying to get my head around it.
Stephen Gallacher is a player who reproduces form at his favourite venues and for that reason plenty will rue not backing him at 66/1 in an event which saw him finish second last year.
But we're talking about a player who had won just once in over 400 European Tour events prior to last week and whose injury struggles make him hard to predict, so backing him did require something of a leap of faith after a modest run of form.
One thing we can usually rely upon is his ball-striking, but while Gallacher topped the greens in regulation stats last year yet couldn't win, this time around he went one place better despite hitting significantly fewer greens.
It was an unpredictable result in its nature, and one which contributed to what was generally a good Middle East Swing for the layers, with Gallacher, Chris Wood and Jamie Donaldson upstaging better-fancied players.
Their victories mean five of the last six early-season Gulf events have gone the way of British players - six in seven if we add McIlroy's win in Dubai late last year - and it'll be fascinating to see if that trend continues next year.
PLAYER IN FOCUS
Thorbjorn Olesen
For those of you who follow me on Twitter, apologies for labouring the point. For those who don't, what of this rising star?
Some were left underwhelmed by his failure to truly contend in Dubai, having moved into a strong position at halfway just one off the lead.
However, there are a couple of things I'd say to that. One is that Sergio Garcia and Lee Westwood flattered to deceive too, and it's easy to expect too much of players who happen to be good enough to regularly contend.
That leads nicely to the second point: just what should we expect from Olesen? No more than he's doing is my answer. Here we have a player who took fewer starts than McIlroy to get off the mark, and who also beat him to his first major top 10. Yes, he could well have added to that victory since, but it will come.
Layers will want to keep Olesen on side and rightly so, but that doesn't mean he'll never be value. I believe he's simply top-class, a player who will feature in the top 10 of the Official World Golf Rankings and contend regularly in majors, so I'll have no qualms backing him at 25s in events like last week's.
After all, he's now placed twice in his last three starts so while each-way punters may feel a tad aggrieved that he hasn't won, they should remember that they're in front.
As for what comes next, well in light of what I said earlier he's not quite tempting enough at 80s for the Open Championship. If he maintains this form and wins again between now and July, however, he could be a massive factor at Muirfield.